While designing a program for young girls I asked them to dream big, whether it sounds realistic or not, leave logic behind and just dream. While that's a good start, for dreams to come true we need mindset and actions. Aspire itself is the first action. Let's check the dictionary meaning of aspire.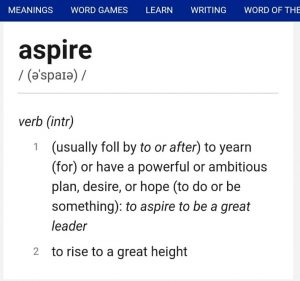 Well, do I need to say any more? Dreams need to be big, to help you rise, to help you grow. But dreams won't come true if we do not translate those into plans and actions. A.S.P.I.R.E. will give you a step-by-step approach to get closer to your dreams. This will not overwhelm you, as you will see the path clearly and you will know the exact actions you need to take every day. With clarity and vision, it gets easier to take action.
Keep checking this space for getting closer to your dreams.